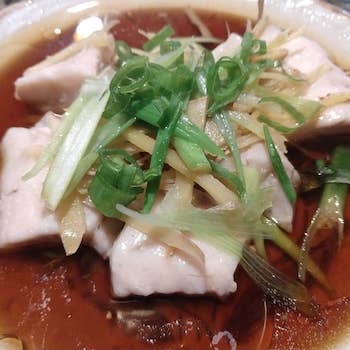 Ingredients
Ginger, julienned

White fish, such as snapper or haddock.

Scallions

3 tbsp soy sauce

3 tbsp water

1/3 tsp sugar

A bit of the white part of the scallion
Equipment
Steamer or wok set up with a steamer

Stock pot
Instructions
Add water to steamer/wok, boil the water to create steam, cover.

Place an edged plate in the steamer, lifted up with a rack.

Add a layer of scallion stalks.

Rest fish on scallions so it's lifted.

Place julienned ginger on top of fish.

Steam for 7-8 minutes.

Separately, boil soy sauce, water, sugear, white scallion, some sliced ginger. Once melded, turn off heat.

Remove fish from heat, and pour cooked sauce over the fish.
Resources
The main inspiration, with some modifications: